Burning Gundam vs. Fire
Subject: Burning Gundam
Series: Mobile Fighter G Gundam
Test Date: November 24, 2002
Materials:
Burning Gundam action figure
half a bottle of rum
a cookie sheet
aluminum foil
a lighter
a bucket of water
WE ARE PROFESSIONALS: DO NOT TRY THIS TEST AT HOME!
Testing Procedure
Phase One:
Burning Gundam was placed on a cookie sheet covered in aluminum foil. A fire extinquisher and bucket of water were kept nearby. After Burning Gundam was properly positioned and the video camera was set up, the test was ready to begin.
In order to aid the burning process, Burning Gundam was soaked in an excess amount of cheap rum. The figure was thoroughly covered and a pool of rum surrounded both feet.
Phase Two:
After being soaked in rum, we used a lighter to ignite the rum at the base of the figure. The flame burned blue and was not easily visible with the human eye.
Phase Three:
This was the observation phase. The burning Burning Gundam figure was left untouched for over five minutes.
In this first photo you can see the pool of rum at the base of Burning Gundam start to burn blue.
The first damage to Burning Gundam were the swords. They both went limp fairly quickly.
It took several seconds for the flame to ignite Burning Gundam itself. The first flames on Burning Gundam appeared on the crotch area.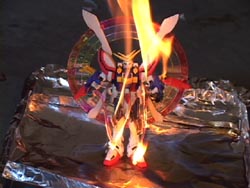 Seconds later, Burning Gundam is aflame. The rapid spread of the flames across Burning Gundam's body was likely due to the generous amount of rum that had been used.
At this point, one of Burning Gundam's swords had fallen out of his hand. This was probably because his left hand had been nearly reduced to ash at this point.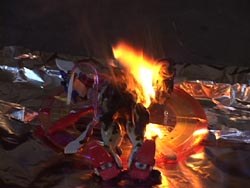 Due to a loss of mass from the front and excess melting, Burning Gundam fell over backwards about a minute into the test.
In a horizontal position, the flames quickly spread over the left side of Burning Gundam's body. Strangely, the flames did not spread over to the right side of the body.
His left leg has been burned off.
At this point, the smoke given off by Burning Gundam starts to become oppressive.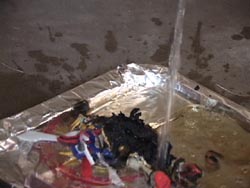 Phase Four:
Having burned for over five minutes with little sign of slowing down, the fire was extinguished with water. It took about half a liter of water before Burning Gundam cooled off enough to touch.
After the smoke had cleared, the water and any remaining rum were drained from the tray.
Test Complete:
This is what's left of Burning Gundam. One of our scientists observed that his charred parts looked like "popcorn after it's microwaved for seven minutes."
Damage Assessment:
Severe damage to the left side of Burning Gundam with many parts destroyed or severely damaged. Moderate damage to the right side of Burning Gundam with most parts suffering from mild to extreme melting. Burning Gundam's waist is completely destroyed.
Conclusion:
Burning Gundam truly lives up to its name.
Additional Information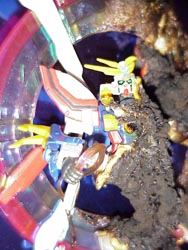 Burning Gundam can be seen in episode 3 of The Chibi Project Podcast.