Test 12: Automobile
Test Performed: Automobile
Test Date: July 21, 2001
Special Conditions: None
This experiment was intended to test Chibi Moon's endurance to being run over by a car.
All photos are clickable for larger versions.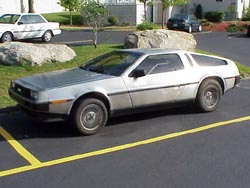 In our Feedback section, we get many suggestions for experiments. One of the more popular requests we get here is to feed Chibi Moon to a dog. While we can't perform that test (since it's too cruel to dogs), we were able to perform another popular suggestion we had been planning for a while...running over Chibi Moon with a car.
We couldn't pick just ANY car. We wanted to do it with style! Fortunately, NeoAlus, a friend to Chibi Project staff members, volunteered to help us with this test and run over Chibi Moon with his 1982 DeLorean. (No, it doesn't go back in time. Don't bother asking us for time travel experiments.)
Chibi Moon was placed in front of the left, front wheel of the DeLorean. Once her position was secured, NeoAlus got into the car, started it, and put it in drive.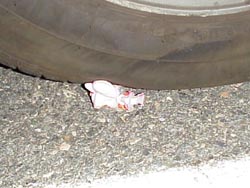 The DeLorean moved forward and ran over Chibi Moon.
Pulling forward a bit more, the left, rear wheel of the car came to rest on top of Chibi Moon. Since DeLoreans have their engines in the rear where the trunk normally is, a large portion of the weight of the engine, the stainless steel body, and the rest of the rear of the car was now pressing down on Chibi Moon.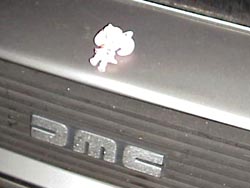 The weight of the DeLorean managed to separate Chibi Moon into two pieces again. The hot glue from the previous experiment stayed on her left side while separating from the right side. As seen in the "After" photo below, we have attempted to keep her together with a wire twist-tie since the completion of this test.
Damage Assessment: Separated into two halves again.
Conclusion: The hot glue did not bond well enough to withstand the weight of a DeLorean.
Before Photos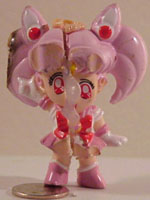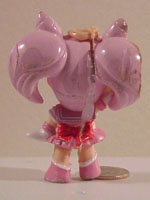 Note: Chibi Moon was standing on a dime in the "Before" photos to help her stand. She was not attached to the dime.